Track System
FLOE's track system allows you to add hinges, guide-poles and other accessories anywhere along the dock's outer frame. This allows you to create a custom system with standard components.
---
Shallow water anchoring solutions
For water depths under 10', FLOE offers an aluminum guide-pole and mounting bracket system for securing and stabilizing the dock sections. These guide-poles have an auger end so you can twist them into the lake bottom. The bracket allows the dock to smoothly raise and lower with water fluctuations.
---
Deep water anchoring solutions
For water depths greater than 10', pilings and custom piling loops can be used to secure the sections, or an appropriate cable and anchor system can be designed.
(Consult with a professional installer for these applications.)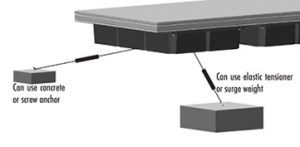 ---